Welcome to the Table: Take a Seat
This semester we had the privilege of taking part in this course called EDCI 339: Distributed and Open Learning. As the name of the course suggests, we have been focusing on distributed and open learning. What does distributed and open learning entail? Well, open learning is defined as "activities that either enhance learning opportunities within formal education systems or broaden learning opportunities beyond formal education systems. "("OPEN LEARNING | meaning in the Cambridge English Dictionary", 2020). In addition, distributed learning is defined as "a method of instruction that relies primarily on indirect communication between students and teachers, including internet or other electronic-based delivery, teleconferencing or correspondence." ("Distributed learning fact sheet", 2020).
The Table utilizes an Indigenous method of communal meetings, called The Kitchen Table. It actively aims at decolonizing our conversation spaces and equalizes any power dynamics. As situations that were happening in everyday lives and what was in the news, last April the creator of The Table, Parker Johnson, came up with this adaption to the Kitchen Table mechanism in order to help the community come together and discuss a variety of tough topics. The Table is a community platform that allows individuals of colour to get together and partake in uninterrupted decolonized speech. We usually meet in person about once a month, however, with this pandemic we have found ways to take this platform into the online realm (through Instagram, twitter, zoom etc.,). "The Internet, supported by various digital technologies, is well-suited for open, flexible and distributed e-learning. Designing and delivering instruction and training on the Internet requires thoughtful analysis and investigation, combined with an understanding of both the Internet's capabilities and resources and the ways in which instructional design principles can be applied to tap the potential of the Internet."(Khan, 2005).
SECTIONS Analysis
Students
"One of the fundamental changes resulting from mass higher education is that university and college teachers must now teach an increasingly diverse range of students." (Bates, 2020).

The majority of the individuals that do partake in the table sessions are students between the ages of 19-25 that attend universities and colleges. However, this year we were given the opportunity to work with an elementary school and students ranging from grades 5-7 to coordinate a variation on the traditional format that appealed to the kids. In addition, we got the opportunity to work with the teachers as well and help them. 

The traditional Table format has been an in person event at a predetermined location. However, in these trying times our online presence is growing in order to still give the community an outlet. The table can be accessed and reached through any device whether it is a laptop, cellphone, tablet if it can support internet then reaching The Table is simple, and that is something that we pride ourselves on because "No matter how powerful in educational terms a particular medium or technology may be, if students cannot access it in a convenient and affordable manner, they cannot learn from it." (Bates, 2020).  avoiding the complex ways of the internet was essential. As university students ourselves we completely understand the notion that not everyone learns the same way however, this way of learning is something that is innate to us as humans, as social beings. Talking, coming together and telling experiences and stories if individuals learn by listening then they are more than welcome to just listen, if they learn by talking then by all means they are allowed to talk 
Ease Of Use:
The set up is simple in nature. All that is required is a table in the centre, a circle of chairs around the perimeter. 

For the online aspect of this platform we will be using as mentioned prior (Facebook, Instagram, Zoom, Whatsapp, Twitter, Linkedin etc). The multitude of resources and ways to be a part of the Table is only growing. Which means it is of the utmost importance that this platform remains user friendly as it shifts online. Luckily, we have a large, tech savvy demographic interacting with us. So utilizing Facebook, Instagram, etc, is relatively easy. 
Costs
Aside from food, the cost is relatively low. Food is an important part of this project because the act of breaking bread at a kitchen table, that it's important to provide food during each event. The cost fluctuates, depending on donations. The other potential cost is the venue. Depending on the capacity and whether or not it is a private event (in a school setting), or a blended community setting (open to the public, and students). 

As for the individuals that attend the event there is no charge ,however, they do have the ability to donate and all donations either go back into the table or is donated to different charities or goes back into the community to help anyway possible. 
 Teaching functions  
This mechanism is indigenous, it promotes communal learning through conversation. The functionality of this mechanism requires participation from the attendees.  There are not many people who enjoy public speaking, but we live in a time where everyone's opinion, and lived experience is accessible because of the power of technology. What we find powerful about this platform however, is that everyone leaves their "baggage" at the door. Their biases, their work week, and keep their phones in their pocket. Everyone is locked in and re-learning how to share space, whilst being attentive. 

"One of the earliest means of formal teaching was oral – through human speech – although over time, technology has been increasingly used to facilitate or 'back-up' oral communication. In ancient times, stories, folklore, histories and news were transmitted and maintained through oral communication, making accurate memorization a critical skill, and the oral tradition is still the case in many aboriginal cultures. For the ancient Greeks, oratory and speech were the means by which people learned and passed on learning."(Bates, 2020).

"Experience has long been considered the best teacher of knowledge. Since we cannot experience everything, other people's experiences, and hence other people, become the surrogate for knowledge." (Bates, 2020). 
Interaction
As described previously this mechanism is indigenous. It's important to recognize because what everyone in attendance is participating in, is decolonizing spaces and conversation. The facilitators both identify as men of colour but are settlers on this land. So, we are asking those in attendance, to understand their own indigeneity, connect to this land, and each other. The interaction is through vulnerability in discussions. Before each session, there are key speakers to kick off the conversation. For example, if the event is about barriers to artistry in our community, local artists who have a story to share, are asked to join us at the table and talk about their experiences and obstacles that they have faced."A powerful social learning strategy that creates an environment of learning is through sharing experiences" ("Sharing Experiences: A stepping stone to Social Learning in the workplace", 2020). Once these key speakers are done speaking, others from the listening circle will take a seat at the table and join the conversations. What happens is transformative, people are engaging in a reciprocal conversation throughout the event. Trading places between the table, and the listening circle. We were asked to run two Table sessions on campus this term, one with the law students with faculty present, discussing barriers in the legal landscape for racialize students, and one with our community internship class, we discussed technological advancement and how it impacts our relational experiences. What we noticed in these academic settings, is that many students appeared to have a difficult time allowing themselves to open up, which is normal during these events, but there is an added layer of pressure of being in an academic setting.
Organisational issues
Organisational issues are interesting in the context of The Table. We've discussed the rules of engagement so to speak, during each session, and the requirements of leaving figurative baggage at the door, and express their truth in a vulnerable way. In this way, we are actually challenging the systems in place, or critical issues that may relate to teachers within an academic setting, and within a public work space. In addition  another organizational issue is pertaining to the key speakers, due to either unforeseen circumstances, miscommunications etc. An important aspect of our communal work has been through reaching out to mentors, and elders. These folks have been immensely supportive and hold rich knowledge for us. These folks are counsellors, professors, and community leaders. As we step into the digital realm of interaction, we've made sure to reach out to experts in the field. For example, friends of ours who are engineering students who are well versed in code, to help us build a website. Other individuals who know how to operate audio and visual tools to record our sessions and upload them online. 

"Although an essential communication skill, listening does not receive the same attention as speaking. As an often-required class, project or professional event, public speaking takes centre stage. A person can experience a range of emotions associated with telling their story including shame, anxiety, and frustration but, depending on how they're being listened to, they may also experience validation, understanding, and empathy. The experience of being listened to and, more to the point, feeling heard can help reduce conflict, decrease physical pain, and foster emotional healing. At times, assuming the posture of the listener can feel strenuous. Listening requires conscious effort and focused attention. However, listening serves as a powerful means of learning and connecting emotionally with others." (McCann,2019).
Networking
One of the most versatile aspects of this digital age is just how easy you can take something like The Table and transfer it onto the internet, whether this is through video recordings, audio recordings, or notes/blogs. With that being said, an important benefit of having networking opportunities that are in the online and social media realm are having the ability to stay connected, this is important because not everyone can be in the same place at the same time so having the internet there to help send messages back and forth to someone or a company who might not be located near you allows that relationship to develop. 

Moreover, in addition to the online networking word of mouth or in person networking also has its benefits. "Word-of-mouth networking gives people a chance to build deeper relationships and increase trust. This increased trust often leads to more qualified referrals, longer professional relationships, and more profitable transactions." (Wilkerson, 2020).
  Security and privacy
After the third event, we had received a lot of good feedback. Some of this came from people who couldn't physically attend due to schedule conflicts. So, we had received multiple inquiries about having sessions taped or recorded to be accessed later for those who couldn't make it. Now that we are all practicing social distancing, or isolation due to COVID-19, it's given us an opportunity to test out different technologies in order to accommodate those within our community remotely. We started this project on Instagram and facebook. Both are major social media hubs. Instagram was especially effective because of its accessibility, our cellphones are extensions of ourselves most of the day. Now, using these tools in conjunction with a webinar platform like Zoom, has proven to be equally as accessible. Not only can it be downloaded on one's phone, but participants can log in from wherever they are. Additionally, Zoom is encrypted. One of the most important aspects of The Table, is one of our ground rules for each session, "what it is said in here, is not said out there." In other words, our vulnerabilities and stories need to be kept safe by everyone here in attendance, if instructors and students want to speak their minds without fear of reprisal

(Bates, 2020),

the same applies for the attendees of our communal events!

It's easy to keep that same security and privacy within our Zoom sessions. Also, using a secure server like Zoom, is beneficial because of it's secure tools and control given to the host(s). For example, those who wish to join in are given a direct invitation or password in order to take part in the conversation. Policies regarding appropriate online behaviour can be managed more easily because these communications are managed 'in house'

(Bates, 2020).

In a way, having these community events are

safer

online, because of the control available to the facilitator.. Any group chats that we take part in, to keep the conversation going, or for folks to debrief post discussion, are held on Signal, which is also encrypted. Although Whatsapp is one of the easiest and most common ways we can stay connected, it is still owned by Facebook, which as we know, is not secure. 

There is also no information required from the individuals that show up to the events, the only thing required is that they follow the rules that are set and be respectful. However, if someone were to take part in the actual speaking at the table portion of the event then it is encouraged that the individual self locates. Self location is important because take in mind we aren't asking the individual to disclose their address or the specifics of  where they live, we are asking them about their lineage and the lands that they reside on now. In addition, this idea of self location helps set a precedent in owning and identifying our own settler-ship .
Personal experience: 
Parker: My experience has been transformative. As an African American living on these lands, creating a platform that encourages connection for my people, as well as the community at large, helps fuel my sense of purpose. It's refreshing to see so many new faces, black, indigenous, and people of colour, supported by non-poc's (people of colour), to validate each other's lived experience. We are actively decolonizing conversations. We are collectively breaking down social and academic barriers and as Vishnu puts it "reminding people that they have a voice." As we progress in this project, we are recognizing the opportunity to explore our options within a digital landscape that can propel this community forward. The next discussion will be held on Zoom, discussing a very relevant topic: Life, death and dignity. Discussing protocols on our process of life and death cross culturally. This discussion will be led by Parker and Vishnu, with hospice staff in attendance, as well as community members from different backgrounds, virtually, using Zoom.
Vishnu: My experience throughout this journey has been not only transformative as Parker mentioned but also so extremely insightful. Myself personally am of mixed backgrounds, my mother is Jamaican and my father East Indian. Growing up at a young age in this city I felt alone and thought that no one knew what I was going through besides my siblings. Years dragged on and so did this internal battle that I was having with myself. It was weird to say the least. The introduction of this platform in my life helped me so much not only in figuring out who I am but also seeing that there are so many more individuals who have shared my story and my experiences. I am now able to help others in a way that I wish someone could have helped me growing up. With this platform Parker and myself have been able to not only help individuals of colour but kids and teachers as well. During this trying time where community is needed the most we are unable to physically show up to help our brothers and sisters but living in this day and age luckily we are able to take this platform onto the internet and be there and create this same sense of community while doing our part in this coronavirus pandemic. 
Media from Events:

Elementary school Session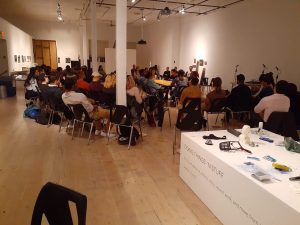 Table Session at Quench Coworking: Photo Credit Nathan Smith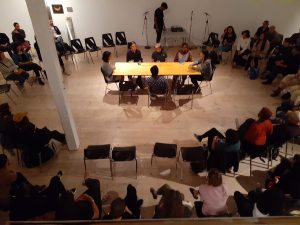 Table Session at Open Space: Photo Credit Nathan Smith
Written by: Vishnu Punwani and Parker Johnson
References:
Bates, A. (2020). 7.2 A short history of educational technology. Retrieved 2 April 2020,
              from https://pressbooks.bccampus.ca/teachinginadigitalagev2
               /chapter/section- 8-1-a-short-history-of-educational-
              technology/#annotations:7H7_NFxPEeqIk79nAR7Lxw
Bates, A. (2020). 9.2 Students. Retrieved 3 April 2020, from 
             https://pressbooks.bccampus.ca/teachinginadigitalagev2/chapter/9-2-the-
            sections-model/
Bates, A. (2020). 9.9 Security and privacy. Retrieved 2 April 2020,
           from https://pressbooks.bccampus.ca/teachinginadigitalagev2/chapter/9-9-the-
            sections-model-speed-and-security/
Distributed learning fact sheet. (2020). Retrieved 3 April 2020,
            from https://bctf.ca/publications.aspx?id=48940
Khan, B. (2005). Learning Features in an Open, Flexible and Distributed Environment.
            AACE Journal, 13(2), 137-153. Norfolk, VA: Association for the Advancement of
            Computing in Education (AACE). Retrieved April 4, 2020
            from https://www.learntechlib.org/primary/p/5987/.
OPEN LEARNING | meaning in the Cambridge English Dictionary. (2020). Retrieved 2
            April 2020, from https://dictionary.cambridge.org/dictionary/english/open-
            learning 
McCann, S., Barto, J., & Goldman, N. (2019). Learning Through Story Listening.
            American Journal of Health Promotion, 33(3), 477–
           481. https://doi.org/10.1177/0890117119825525e
Sharing Experiences: A stepping stone to Social Learning in the workplace. (2020).
           Retrieved 2 April 2020, from https://elearningindustry.com/sharing-experiences-
           stepping-stone-to-social-learning-work place